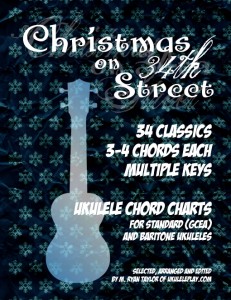 Every year comes christmas. Whether you like it or not. And there will be people who ask you to play some christmas songs on your baby guitar. So what to do ? Maybe here's the solution. I got a copy of the recently published book " Christmas on 34th Street " by the author M. Ryan Taylor from
ukuleleplay.com
. The title refers to the old christmas flick "
Miracle on 34th Street
" and the number of presented songs. These are traditionals  that have been sung for decades in the holiday season. Every song comes with chords, lyrics and the melodie in classic notation. The experienced ukulele player and teacher M. Ryan Taylor made chord diagrams for the standard C6 tuning and for baritone ukulele.
Someone who kept the bari players in mind. I like that.
To get an impression how it looks like please click
here
for the free sample ( " Jingle Bells " ). Every song is on one or two sheets. It's a clear layout and easy to follow. With 34 songs you have enough material to play for a long time. When I saw the sample I asked myself " why didn't he included some tabs ? ". Well, this songbook is primarily for ukulele strumming. And some uke players can read classic notation. Additional tabs ( maybe in reentrant and baritone tuning ) would take some space and the book would be much bigger. Here the melodie can be played by flute, piano, guitar or whoever can play the notes. Or just sing. You can order this book as paperback or e-book for 8,99 $. For more informations please click
here
. The bottom line is that you get a whole lot of christmas with this book. Highly recommended. If you like some christmas playalongs on your mobile device, you might take a look at my christmas app for
ukulele
and
guitar
. A second part including two songs for new years eve coming soon. FriendlyFred