Italy - the land of pizza, pasta, amore and ... Aquila. The company based in Vicenza produces gut and synthetic strings for different instruments. Their most famous product are the Nylgut strings. They call them  " synthetic gut " strings. Nylgut has the same mean specific weight as gut. Lots of players use these strings, although I don't know any of the ukulele string endorsers whom you can find on their
homepage
. If you're looking for some players' experiences about Nylgut ukulele strings, you might take a look at this
review on Ukulele Hunt
. I usually use carbon strings. Some times ago I tried Nylgut strings in tenor and baritone mensur. And what can I say, I was totally disappointed. Here are the reasons for my unhappiness:
1. Haptic ( slippery )
First impression: the surface of the strings feel very smooth almost a little bit slippery. Aquila says that Nylgut has a low degree of humidity absorption ( only 10% that of nylon ). So there has to be a polished surface. I notice that especially while finger picking.
2. Sound ( mellow )
I get a soft mellow sound with Aquila ukulele strings. I prefer a brighter tone like the one from carbon strings. The sound certainly has to do something with the next point.
3. They feel somehow sloppy
I thought it's due to a lower string tension. But as Barry, who runs
gotaukulele.com
 ( see comments below ) pointed out, fluorocarbon strings can have a lower string tension than Nylgut. So I suppose it's due to a lower density ( that's why the diameter of Nylgut is higher than that of similar fluorocarbon strings).
4. Durability ( are you kidding ? )
The 4th of the baritone Nylgut ukulele strings I used started to unwound after about 2 weeks of playing. Well I hit the strings hard and often play with a pick, but that's a short lifetime.
5. Price ( expensive )
They charge about double price of normal Nylon strings. But keep in mind that Nylgut is modified nylon. So in conclusion not my cup of tea. I stay with carbon strings. Like the Martin M-series or Hannabach Goldin strings ( guitar ) for my baritone uke. Just to make it clear: If you like Aquila Nylgut ukulele strings then it's fine. I just want to encourage you to try some different strings. What do you think about Nylgut ?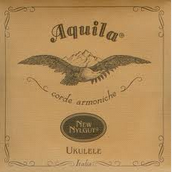 Cheers FriendlyFred