New Novel about Uke Player
Guest post by Mary Amato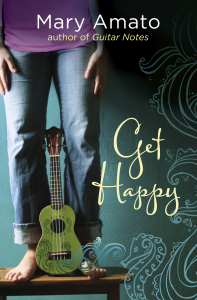 I am a novelist and a songwriter, which is a fun combination. Lately, I've been writing books about songwriters and including songs in the books. I've also been posting either mp3s or videos of the songs on my website. My latest novel, Get Happy, is about a girl who desperately wants a ukulele for her 16th birthday. What she gets instead is a shocking invitation from her long-lost father to reconnect. Her best friend, a new love interest, and her connection to uke help her survive the emotional tsunami. The novel includes six original songs. I wrote the lyrics and the music and asked a talented young performer, Jamey Geston, to create very informal music videos of her performances. I'm hoping that readers who love the uke will enjoy the novel and songs and that readers who aren't yet uke-crazed will become inspired! The book will be released in hardcover and ebook on October 28, 2014 and will be released in softcover soon after. You can check out the
videos
And find out more about the book and music on my
website
. The YouTube ID of HM8yQMCipi0?list=PLa2ekNrOygZqajEKzkDLvgAPpnP-cNKOo is invalid.
More info:
About Mary Amato
Amato's fiction, known for humor, heart, and grit, has been translated into foreign languages, adapted for stage, optioned for TV, appeared on many state reading lists, and won numerous awards. She is also a performing singer-songwriter. A former teacher herself, her passionate workshops on writing, songwriting, and the creative process take her around the
country
. Amato's previous YA novel
Guitar Notes
,
which also included songs, released an outpouring of heart-felt
fan mail
from teens and tweens who started writing and sending Amato their own songs.
About Jamey Geston
Jamey
is a California-based singer-songwriter and uke player. At only 15 years of age, she has a jaw-dropping gig list. Bob Leggett, music critic for the LA Examiner, puts her on his "top twenty" list of rising stars to watch.
About the Book's Signature Ukulele
Luna
, a company that makes instruments that especially fit the bodies of teens and girls, will be partnering with Amato to offer a free uke giveaway to encourage more teens to play and write their own songs.