I asked some friendly ukulele bloggers about the gear that they use for their audio and video recordings. I also wanted to know if they do some post production ( audio software ) to enhance the sound. Most ukulele players don't have professional recording equipment, but with the technology of today you can get quite good results with a simpler ukulele recording setup. You can compare the differences by watching the linked Youtube videos.
1. Daniel Hulbert ( Circuits and Strings )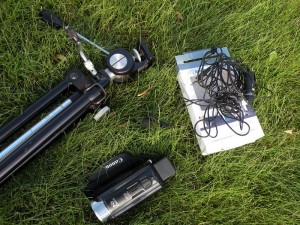 This is the equipment that I use to make my videos.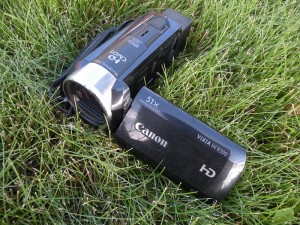 My video camera is a "Canon VIXIA HF R300". It's shots HD video and it's one of the few cameras in its price range that has an input for an external microphone.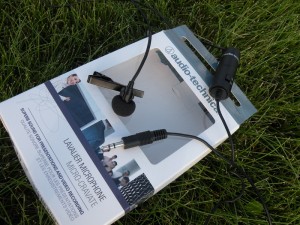 I use a lavalier microphone to input audio to the camera. This mic from Audio-Technica is small enough to tuck away discreetly, but still has great sound quality.
I use Final Cut to edit the video.  The audio levels are adjusted so that they peak at -12 dB.  I also normally apply the Reverberation filter using the "Room (Small)" type.
If I need to do other audio mastering, I use Audacity.
Most of my videos are demonstrations of instrument projects I've built.  I try to show the major features of the instrument in the video, along with showing how it sounds.
2. M. Ryan Taylor ( ukuleleplay.com )
Please write about the gear you use for your videos and songs ( Camcorder, Camera, Microphone etc. ).
I have a lot of gear I've collected over the years, but for simple youtube videos that are meant to reinforce concepts and songs I teach to my students, I go for simplicity; I stick my Sony Cyber-shot on a tripod and shoot (sometimes I shoot many times). The sound is pretty good and video is excellent for a consumer camera. See:
demonstrating a gallop strum I use in the Hawaiian classic Aue Ke Aloha E:
Do you do any post production ( Mastering, Normalising, Youtube editor,.. ) ?
Sometimes I've used the youtube editor to trim the ends, but I only do fancy stuff if I'm recording a track for an album I intend to sell. I have yet to record my ukulele album!
Do you use an audio software ?
I use Sonar when I'm getting serious, but I often think of moving to Ableton or ProTools, just because they are so much more ubiquitous in the recording/performing community.
3. John Bianchi ( The Ukaholic )
Q: Please write about the gear you use for your videos and songs ( Camcorder, Camera, Microphone etc. ).
A: Because I'm not a gear head, I take a distinctly un-sophisticated approach to my videos, and sadly – I think it shows.  I used to use a Canon PowerShot model SD1400 IS, which I think has a very good image, for most of my videos, with a Bogen tripod. But, I started using my iPhone 4 for recording in the car a couple of years ago, and now, that's all I seem to use, even when I'm not doing an alternate-side-of-the-street parking video, and I actually like the mic better than the one on the Canon.  I have to prop up the phone against the case on the passenger side of the car, as you can see in this video:
4. Miles Ramsey ( UKEonomics )
At home, I prop it up on a table or books, though I can never seem to get a high enough angle like I could with the Canon on the tripod. Q: Do you do any post production ( Mastering, Normalising, Youtube editor,.. ) ? A: I've never used the YouTube editor, but I do use iMovie to trim the top and bottom of the video, and occasionally to normalize the video.  On the video above, I did a little editing for the first time ever to get in some of the shots of what was happening on the street that morning.  I also use iMovie to convert the iPhone video to a Quicktime file, which I then post to YouTube.  Once when I knew I wasn't going to be near a computer, I just recorded a video and did a straight wireless upload to YouTube directly from the iPhone – it works, but you can't edit, so it's not my favorite way to do it! Q: Do you use an audio software? A: There's audio software?
For Youtube videos, I stick to a pretty simple formula.  My wife (who happens to be a photographer) has a Nikon D7000.  Not only does it take amazing pictures, but it can shoot some amazing video!  While the built in mic is nothing to write home about, it gets the job done.
When I actually sit down to record some straight audio, I usually record with a Shure SM 57 and place it about 6 inches away from the ukulele with the mic positioned at the 12th fret and angled slightly towards the sound hole.  Hard to go wrong with a 57.  I add some light compression and some slight EQ.  While the EQ always differs from session to session and uke to uke, a good starting point is to roll off everything below 80hz, cut a few db around the 200-300hz mark, and boost a touch around 5k
5. Friendly Fred ( uke4u )
For a simple Youtube video where I just play solo ukulele I use my Zoom Q3HD for recording. If there's enough light the video quality is ok. The sound is good enough too.
It has an editing software on board. So I can cut the video and add some mastering effects
( normalising, maximising, reverb ). Like here:
Sometimes I use my ipad for backing. Then I record the ukulele with my AKG C 1000 S microphone. The signal from the micropohone and the iPad go into my Mackie mixer ( 1202-VLZ Pro ). From the mixer I go into the line in of the Zoom Q3HD. As I did here:
When I use the AKG mic and the mixer, the sound is better than with the Zoom Q3HD.
When there's a lot of noise, I use a contact microphone ( AKG C 411 P ).
With my electric ukes I sometimes use some pedals ( amp simulation, distortion etc. ) and go into the mixer. Or I use myApogee Jam to connect the electric ukulele with my iPad.
When it comes to audio software I use some iPad Apps and Ableton live on my computer.
You can hear some of the songs I produced with a friend on my myspace page:
Please visit the mentioned ukulele blogs.
Feel free to leave a comment about your ukulele recording setup.
FriendlyFred