So it is done. I finally finished working on an iPhone app "
Learning Ukulele In 7 Days
". The app was made for actually planned to be a "Ukulele for beginners app". But after finishing my collaboration with the developer
Peter Ristow
I think it is more than that. Especially the playalongs can be used by all kinds of ukulele players.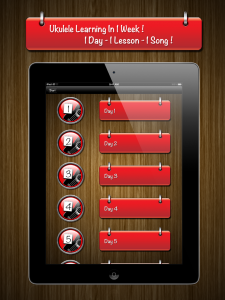 So why this app ?
Well some people told me that they would like to learn to play ukulele, some of them had tried it using books, some of them used infos from the internet. But most of them did not continue to learn. They often told me that they hadn't enough time to practice, or that they haven't got the talent to play ukulele.
So why did they all stopped to learn the instrument ?
First of all I have to say that I think that there are really great Ukulele books and even better tutorials on the internet. So in my opinion it was not the matter of quality. It is how the informations were presented. I think the internet changed the way people handle informations. They want them presented in a visual way. That is why Youtube has so many fans. I also recognized that a lot of people are very good in handling their smartphones. Why is it that a lot people are good at playing "angry birds", you have to practice that as well.
I thought there has to be a better way to teach people how to play ukulele.
So a ukulele learning app would be the answer. That's why I worked on the iPhone app "
Learning Ukulele In 7 Days
". (And because i love this instrument so much) After some collaborations with other musicians I was asked to make a Ukulele song for the iPhone Game "
SpinDaBoom Hd
". So I told the developer that I wanted to make a "ukulele learning app". He was into it from the beginning. (He is a "instrument learning:No, videogaming:yes" kind of guy.)
I wanted it to be a mixture between a comic book and guitar hero
,the less informations the better. I think another problem that you have, when you want to learn a certain thing is that there are to much informations. Well once you have some skills and you want to develop them you will be able to judge which information is necessary and which is not. But when you begin less is more.
Learn some basic techniques until you are very good at it.
So what is the app about ?
---
A lot of graphics (ok some text was necessary). You will learn
how to hold the ukulele.
basic strumming techniques (Downstroke Upstroke)
how to grab your first chords
how to strum to certain rhythms (very important, a lot of people aren't able to keep a rhythm after years of playing)
how to play complete songs
a chordfinder will help you to quickly find your chords a simple tuner will help you to stay in tune
---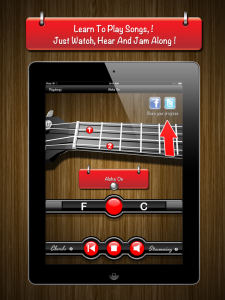 I made 7 playalongs exclusively for this app.
6 of them are popular songs, 1 is actually a rhythm exercise. If you are interested you can take a look at the 
Aloha 'Oe
 video, which is part of the app. The playalongs will help you to learn to play the song because they are kind of interactive. Every song has a strumming ukulele strumming in the background, so you can listen to me strumming, try to strum the same way. Once you have get the feeling for the rhythm you can turn off the strumming ukulele. Now try it without help from me. There are arrows on the fretboard showing you when and how to strum. You will also see which chord comes next and how you have to grab the chord. Feel free to strum in a different way as long as you get the right chord at the right time it will surely sound fine. The app has 7 lessons (that' why it's called "In 7 Days"). At the end of each lesson you (hopefully) will be able to play a new song. If you want to take a closer look you can visit the
App's Website
.
The app runs on an iPhone, and iPad and iPod Touch with ios 5.0 or above.
Some people already asked me if there will be translations into other languages (currently it's in english). Well we will work on that. Some asked about releasing a version for Android. That depends if there are enough ukulele players out there , we will see. So check it out, the app will be out soon with a starting price of
$1.99 for the first 2 weeks.
Later it will be priced with $3.99. So make sure that you'll grab one soon. Let me know if you like the app, if you bought one and if you like it, please tell your friends or write a review on the app store, that will help us to work on the app. Version 1.0 will definitely not be the end of the story.
 I forgot to say, that the app is about one thing, having fun !
"Learning Ukulele In 7 Days" on Youtube
"Learning Ukulele In 7 Days" Website